Activities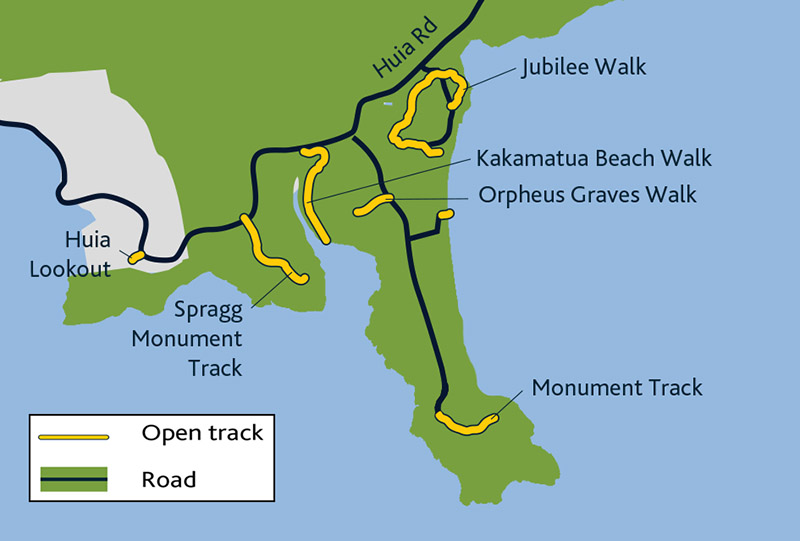 There is pedestrian access 24 hours a day to Cornwallis Beach. During summer hours (daylight savings) the vehicle gates are open from 8am to 9pm. During winter (non-daylight savings) the gates are open from 8am to 7pm. The main carpark is located at the Pine Ave entrance, which includes an overflow parking area. Additional parking can be found at the Firebreak Road entrance.
The Wharf
A programme of repairs and maintenance has recently been completed on Cornwallis Wharf. Repairs include new handrails and replacement floorboards for those that were previously damaged or broken. Two new sets of stairs leading down to the water level have also been added, replacing the pair that had been broken and closed for many years.
Walking tracks
There are a number of short walking tracks in the are that currently remain open, despite recent track closures throughout the region to help stop the spread of kauri dieback. Here is a brief description of some of the walks.
Jubilee Walk: The 30min Jubilee Walk re-opened in December 2019. For more information on this walk, including photographs and a more detailed map, view our Jubilee Walk page.

Kakamatua Beach Walk:  From the parking area beside the Kakamatua Stream bridge on Huia Road, Kakamatua Beach Walk is a level walk to the sandy beach at the head of the tidal inlet. The inlet is a popular dog exercise area. Dogs should be on-leash for the track section, but can be off-leash at the inlet open area.
Kakamatua Inlet Track: Short walk from Cornwallis Road to Kakamatua Inlet. Currently closed due to kauri dieback management.
McLachlan Monument Track: From the parking area at the end of Cornwallis Road it is a short 10 minute walk uphill to the McLachlan stone obelisk. Views across the harbour and overlooking Cornwallis Beach.
Orpheus Graves Walk: A short walk to the historic graves of three unknown victims of the 1863 HMS Orpheus wreck in which 189 people lost their lives.
Spragg Monument Walk: Short walk to the 9m tall war memorial commemorating pilot lieutenant Wesley Neal Spragg and all those who killed in war.
Swimming
Cornwallis Beach is a popular, safe swimming beach without large waves. Strong currents can be felt closer to the wharf - especially around high tide. See SafeSwim.org.nz for latest water quality conditions.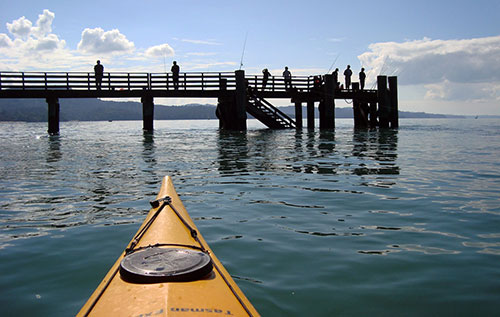 Boating
Suitable for small boats, personal watercraft and sea kayaks. Currents in the harbour can be very strong. The boat launch area next to the wharf is suitable for trailer launch under five metres in length. The road leading to the ramp is narrow and winding.
Fishing
Both the beach and the wharf are very popular spots for fishing, especially around high tide.
Picnics
See information on far right for details on how to book one of four picnic sites with barbecues.
Walking dogs
Cornwallis Beach is a designated dog walking area and you can walk your dog on-leash at all times. This covers the sandy area from headland to headland. Dogs should not be walked or allowed to roam around the grassed picnic areas. Any mess left by your dog should be removed and placed in one of several green dog waste bins.
Drones
Cornwallis Beach is a designated dog walking area by Auckland Council and as such it is not permited to fly drones here. See Auckland Council's website on flying drones or unmanned aerial vehicles for current rules and guidelines. 
Book a picnic site
There are two bookable picnic sites located at the northern end of Cornwallis Beach, each with a gas barbecue.
Each site can be reserved up-to seven months in advance. So for example, to book for 25 January 2023, you will be able to book from 2pm on 25 June 2022.
Each location can fit up to 60 people and costs vary depending on whether your booking is on a weekday or a weekend or public holiday. For weekdays the cost is $104 incl. GST for the day. For a weekend or public holiday, the cost per day is $203 incl. GST.
Larger groups can book sites 1 and 2 together.
Note that you must occupy your booked site by 9am and camping is not allowed on bookable sites at any time.
Formally available picnic sites (shown on map as positions 3 and 4) are no longer bookable.
Bookings are made through the Auckland Council website.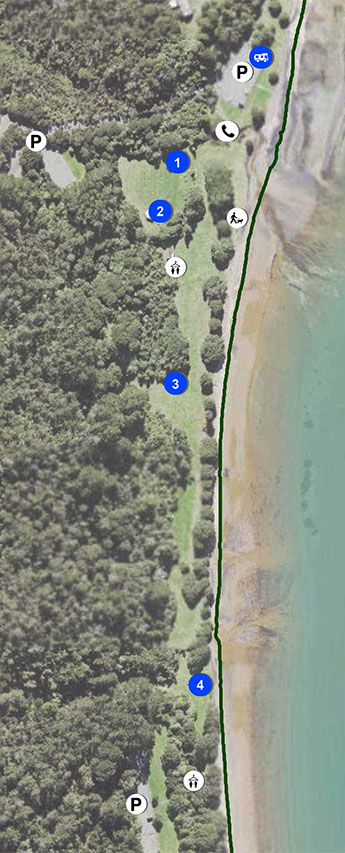 Weddings
You will need a permit for your ceremony and early booking to secure your location is recommended.
You can choose from a number of options with easy access for guests. Contact the Arataki Visitor Centre on 09 817 0077 to discuss your requirements.
Rubbish
Cornwallis and the whole Waitakere Ranges Regional Parks is rubbish free. Take all rubbish and recycling with you when you leave and dispose of it yourself once you get home.