Grey-faced petrel survey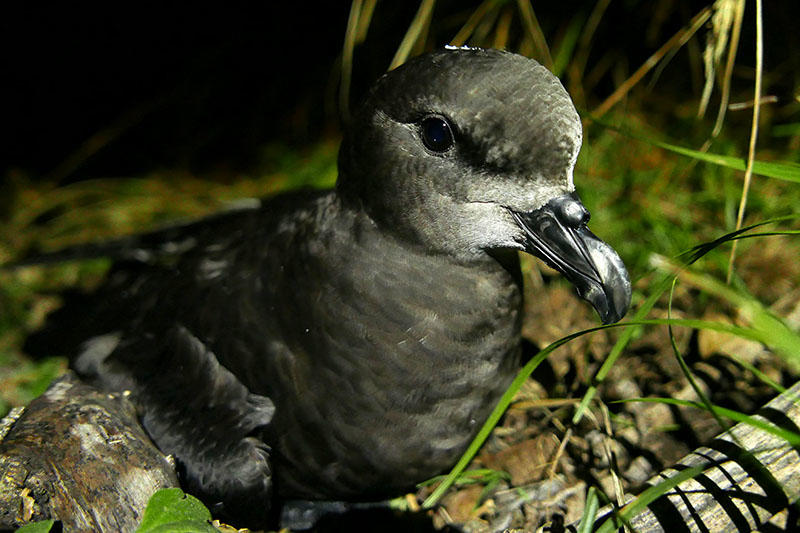 The grey-faced petrel nesting sites located at the southern tip of the Karangāhape Peninsula (Cornwallis) have been the focus of activity recently, as locals and experts try to evaluate the health and size of the seabird colony. 
These seabirds, also known as Oi, spend long periods of their life out at sea feeding, but often return to established nesting areas to rest, mate, and rear their young. April and May are usually busy months for an established colony, often featuring aerial courtship between birds. With this in mind, May was selected as a good time to survey bird numbers across the northern edge of the Manukau Harbour.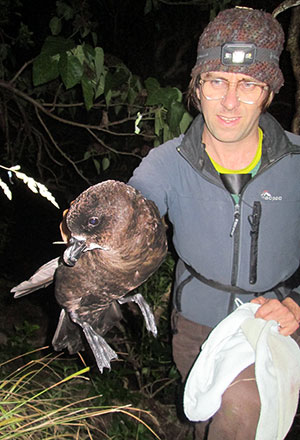 Grey-faced petrels are only active at their breeding grounds at night, so several teams ventured into the evening of Sunday 5 May to count any of the birds they could find across the northen edge of the harbour. However, at the end of the night, the only ones sighted or heard were at Cornwallis – with a possible six to eight birds. 
The following week, an Auckland Council conservation team surveyed the Cornwalis colony area with assistance from Russ – a six-year-old labrador retriever (pictured below) trained to sniff out seabirds. The group found evidence of 20-25 burrows – roughly half of which were occupied by male birds doing housework for mating. 
James Russell (pictured above right), a conservation biologist from Auckland University, says these results show that Puponga Point appears to be a key grey-faced petrel sanctuary – for the Manukau Harbour at least. 
"Twenty burrows, means at least 40 birds, plus a small amount of transitory petrels attracted by the others," says Russell, adding that only 10 to 12 would return to shore each evening. 

In late May, Russell visited the colony himself one evening, accompanied by a small group of local residents, photographer Jacqui Geux, and outdoorsman Kennedy Warne. (Warne is a regular contributor to RNZ National's Nine to Noon programme and his report on the night can be found on the RNZ website). 
This time the main focus of the team was briefly capturing as many petrels as possible and placing identification bands on their legs. 
Shortly after nightfall, the birds began arriving, and after an hour or so, 10 had been captured and nine of them tagged. The tenth bird already had a band from a previous 2016 study – proof that petrels are returning to the colony. 
Grey-faced petrels are normally quite docile on land, making banding them easier. However, watch as one @Cornwallis_NZ petrel locks its beak around the thumb of @IsldJames who shows admirable restraint in his choice of words. #seabirds #petrel pic.twitter.com/7SfkmzxOHE

— Cornwallis Beach (@Cornwallis_NZ) May 20, 2019
"The fact we found so many without bands shows that there is good growth of the colony," says Russell. 
However, it is not the largest breeding site in the area. The previous Tuesday evening, he and another team had tagged 36 at Piha.
Grey-faced petrel photo at top by Jacqui Geux. Russ the dog image by Alex Duncan. James Russell image by P.K.Stowers