News round-up from Cornwallis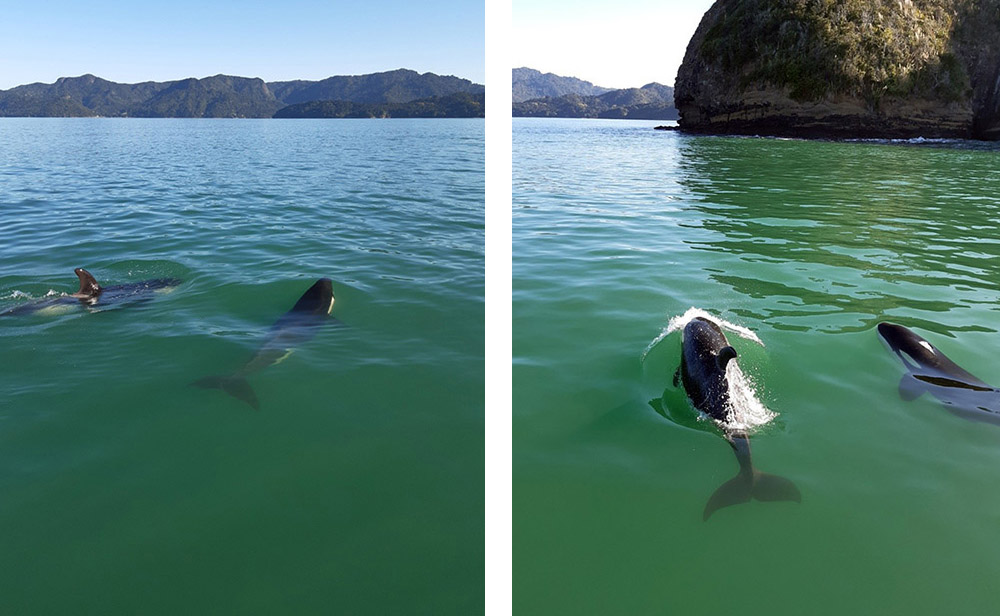 Orca sighted in Manukau Harbour
A small pod of orca made repeated visits to the Manukau Harbour in late May 2020, and were spotted numerous times off Cornwallis Beach (pictured above).
The sightings occurred on Tuesday May 19, Thursday May 21 and again on Tuesday May 26.
The photos above were taken on May 21. In the image on the left, you can see Puponga Point, with the southern end of the Karangahape Peninsula (Cornwallis) in the top right, with the Waitakere Ranges in the background. In the left image, two orca are rounding Puponga Point, heading back out towards Manukau Heads.
Responding to the images on Twitter, the Marine Mammal Ecology Group at the University of Auckland said it was not unusual to see orca enter the Manukau Harbour as they travel around the New Zealand coastline. The Project Jonah Twitter account labelled the images, "Stunning".
With so little rain in the Auckland region during autumn, it also means there was little run-off into the harbour, meaning it was cleaner than usual. This may be an attraction to the large mammals. The lack of pleasure craft on the water during a clear, midweek day may also have been a factor.
Wharf structural work complete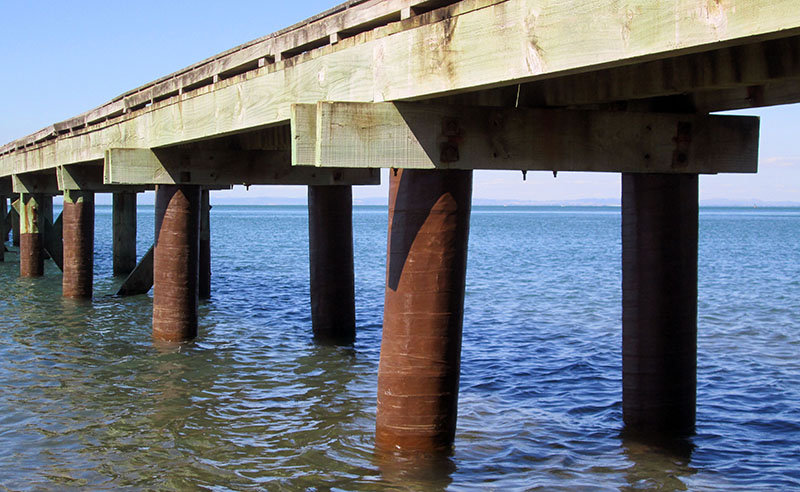 Work to wrap Cornwallis Wharf's wooden support piles in a strengthening tape has now been completed.
Each wooden support was wrapped in industrial Denso tape - which can be applied underwater to give greater protection to the aging wood.
Much of the work was done by divers - as shown in this demonstratoin video.
Further structural work will eventually see the reinstatement of the boat platforms at the far end of the pier.
The work is funded by Auckland Council and carried out by STG Group – specialists in marine construction and maintenance.
It started in March and then paused for five weeks during the Covid-19 nationwide lockdown period.
Regional possum control programme
The project area (shown right) is 5000 hectares in size and predominately on regional parkland.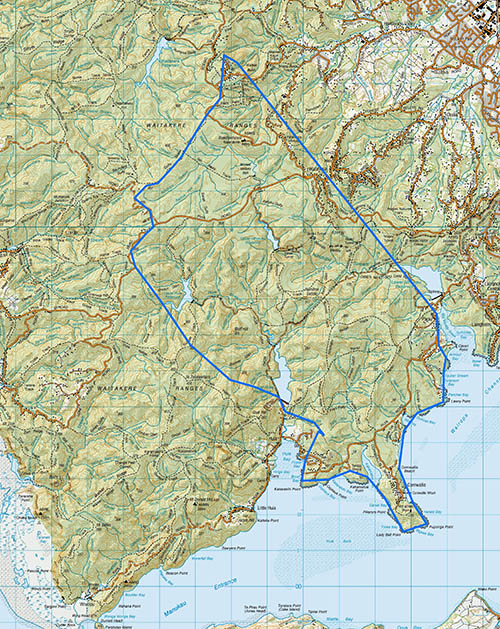 To control possums and exclude non-target animals, bait is placed in stations 1.8 metres off the ground. There are two different types of bait, with pellets located in more publicly accessible areas of less strength than those in more remote locations.
There are very low risks of secondary poisoning (where an animal becomes ill after eating a possum that has eaten the bait), when using these pellets, and this is one of the reasons they have been chosen for this operation.
No bait will be used within 100m of the Kakamatua beach track. Instead, live capture cage traps will be used, set back from the track itself. These do not harm a non-target animal if caught, and they can be released. These cage traps will be checked daily.
Any questions on this possum control operation can be emailed to biosecurity@aucklandcouncil.govt.nz and they will be directed to the appropriate member within Auckland Council.