Early baches
The following is an excerpt from Cornwallis – a book by John Lifton in which he looks at the history of the area. A particularly interesting section is devoted to the proliferation of home-built baches that sprouted up beyond the high tide mark from 1917 onwards.
The conditions under which the sites were rented out were perhaps not made plain to the bach owners. There was no lease, tenancy agreement, or written agreement of any nature required by the Auckland City Council.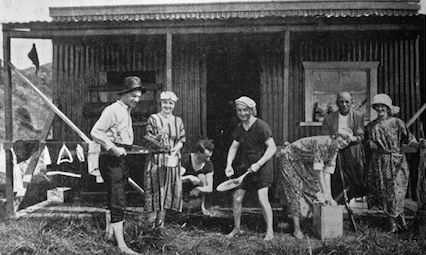 The tenants paid an annual rent to the Auckland City Council and rates to the Waitemata County Council. The sites were rented out from 1917 onwards on a yearly basis.
Although the tenant bach owners paid rent in this way, it was inferred by the Auckland City Council staff, and assumed by the bach owners, that the rental contract was perpetual.
In keeping with their interpretation of the desires of John Mitchell McLachlan, the Auckland City Council issued permits for holiday homes or baches to be built on the foreshore at Cornwallis.

They were not to exceed 25 pounds in value. At that time a two-bedroom house could be erected for 120 pounds, so a reasonable dwelling could be erected for this smaller sum.
Cornwallis was within easy reach of many Auckland families. They were able to travel to Onehunga by tramcar from all points in the central city. They then proceeded to Cornwallis by pässenger launch or private vessel.
Travel by sea around the Manukau Harbour was the norm in those days. The road to Cornwallis was a clay track, which became almost impassable to motor or horse-drawn vehicles during periods of rain.
Cornwallis Beach was a safe bathing beach for children and the harbour a wonderful source of fresh fish and shellfish. Families were able to catch snapper, flounder, and piper and find pipis, cockles and scallops in profusion.

At first temporary camps with canvas shelters and kitchens were erected. Eventually about 100 baches were built of more permanent materials.
A thriving community of holidaymakers organised themselves at Christmas time to have a Father Christmas for the children. The Annual Sports Day (see film clip above) was held usually on the 1st January. Competition was very keen for a whole range of prizes and trophies.
In April 1969 the Auckland City Council ended the rental agreement and decreed that all the buildings should be removed. Bach owners fought passionately to keep their holiday community, which at one stage also included two stores and a post office. Parliament was petitioned and legal action followed. Eventually however, the bach owners lost – although it took until 1978 before the last one was bulldozed.